DeKalb County One of Seven Georgia Districts Recognized by College Board
The DeKalb County School District (DCSD) was recognized as one of seven districts statewide and 539 in the U.S. and Canada by the College Board with placement on the 3rd Annual AP® District Honor Roll for simultaneously increasing access to Advanced Placement® (AP) course work while increasing the percentage of students earning scores of 3 or higher on AP Exams.
According to the College Board, only about half of African-American, Hispanic and Native American students with a high degree of readiness for AP actually participate, often because the courses aren't offered. In DCSD, where 88 percent of the student population is non-white and 71.13 percent of students receive free or reduced-price meals, AP classes are offered at 23 schools.
More than 90 percent of colleges and universities across the U.S. offer college credit, advanced placement or both for a score of 3 or higher on an AP Exam, which can potentially save students and their families thousands of dollars in college tuition.
A total of 539 school districts across 44 of 50 states in the U. S. and six Canadian provinces achieved honor roll status. In Georgia, seven districts were recognized.
Inclusion on the 3rd Annual AP District Honor Roll is based on the examination of three years of AP data, from 2010 to 2012 for the following criteria:
Districts must:
1) Increase participation/access to AP by at least 4 percent in large districts, at least 6 percent in medium districts and at least 11 percent in small districts;
2) Ensure that the percentage of African American, Hispanic/Latino and American Indian/Alaska Native students taking AP Exams did not decrease by more than 5 percent for large and medium districts or by more than 10 percent for small districts;
3) Improve performance levels when comparing the percentage of students in 2012 scoring a 3 or higher to those in 2010, unless the district has already attained a performance level in which more than 70 percent of the AP students are scoring a 3 or higher.
To view the entire AP Honor Roll list, click here .
DeKalb County School District Adding 49 New Buses to Fleet
Imagine driving 11 million miles in one year alone. In order to transport 62,000 students to and from school each day, that's how many miles DCSD buses drive annually.
Thanks to funding from the Georgia Department of Education and the Georgia State Financing and Investment Commission, DCSD will add 49 new buses to its fleet this year with no impact on the general budget. The purchase of these 72-passenger Blue Bird buses was approved by the Board of Education at its Oct. 8 meeting. Twenty buses have passed pre-service inspections and have been delivered, with the remainder arriving over the next weeks.
The buses have been purchased from the Yancey Bus Sales at a cost of $76,219.50 each. The total cost of all 49 buses is $3,734,755.50, paid for through the state bus bond funds.
Henderson Mill Elementary Awarded STEM Certification
On October 31, Henderson Mill Elementary was awarded STEM certification by the State Department of Education's Chief Academic Officer, Dr. Mike Buck and STEM Coordinators, Drs. Gilda Lyon and Juan-Carlos Aguilar. Dr. Kathy Howe, Deputy Superintendent of Curriculum and Instruction and Mr. Brad Bryant, Executive Director of the Georgia Foundation for Public Education participated in the awards ceremony along with a large group of parents and business partners. Dr. Buck led 575 students in a rousing cheer of "We're Number One," since Henderson Mill Elementary is the first PreK-5 school in Georgia to receive this award.
The STEM program at Henderson Mill focuses on a cross-curricular, critical thinking approach to incorporate STEM into all content areas. They offer the students opportunities to participate in unique programs such as Engineering is Elementary, Small Fry to Go, a school-wide garden, and LEGO Build to Express, along with incorporating STEM concepts with the common core standards. The school was also recognized by the Board of Education at its November 12 meeting.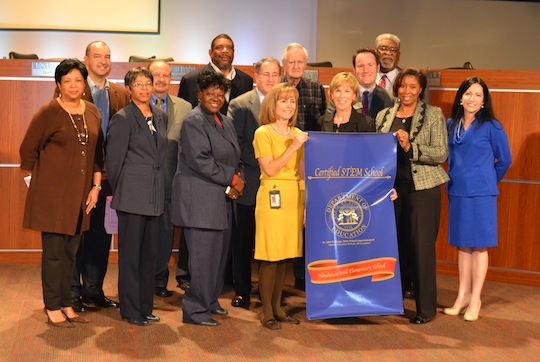 DSCD Schools Compete in GHSA Football State Playoffs
The 2012 GHSA Football State Playoffs begin on November 16 with the first round playoff games. Admission for the first round is $10, second round is $12, third round is $12 and semifinals are $15. Admission to the championship games is $18 for presale at schools and $20 through Ticketmaster and at the Georgia Dome. Dekalb Employee ID and Board passes are not accepted at GHSA events. GHSA passes will be accepted.
DeKalb County Playoff Schedule Friday, Nov. 16
Class AAA
Cedar Grove (6-4) at Buford (7-3), 7:30 p.m.
Class AAAAA
SW DeKalb (7-3) at Kell (9-1), 7:30 p.m.
Tucker (8-2) at Creekview (9-1), 7:30 p.m.
Sequoyah (7-3) vs. M.L. King (10-0), Hallford, 7:30 p.m.
Saturday, Nov. 17
Pope (7-3) vs. Stephenson (7-2), Hallford, 7:30 p.m.
Lithonia High Band Places at National Competition
The Lithonia High Band, under the direction of David High and Michael Lloyd, competed in the 2012 Annual High School High Stepping Nationals in Charlotte, NC on Nov. 10. The band received first place in marching and was honored with the Harold J. Haughton Outstanding Marching Award. They placed second overall, and second in the General Effect category. Prior to the Nationals, Lithonia High competed in the Mid-Atlantic Regional High Stepping Marching Band Championship and took first place in all categories: Flag Team, Dancers, Drum Majors, Drum Line, Visual Effect, Marching and best overall.
Columbia Elementary Hosts Real Men Read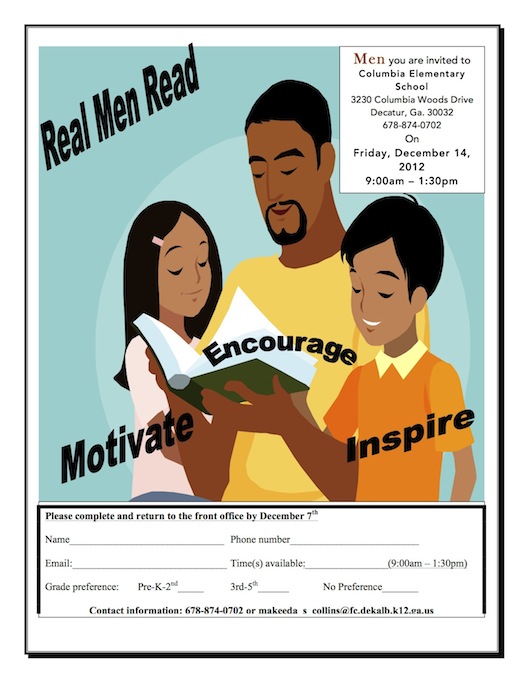 DCSD Director of Professional Learning Named to State Task Force
Dr. Sonja Alexander, DCSD director of professional learning, was invited to serve on the Professional Learning Rules Task Force established by the Georgia Department of Education. The Task Force will review current State Board of Education professional learning rules, review current research regarding professional learning, provide suggestions for revisions to the rules and provide suggestions for implementation. In addition, Dr. Alexander has been selected to serve as the President Elect for the Georgia Learning Forward Board of Directors. Learning Forward provides educators the opportunity to expand their professional development networks by connecting with other individuals on local and national levels.
Chamblee Middle Hosts Bulldog Brain Brawl
On November 3, Chamblee Middle held its own academic competition, the Bulldog Brain Brawl, for DeKalb and other metro schools. Twenty-nine middle schools participated in this academic competition, which was hosted and organized by the Chamblee Middle Academic Quiz Team under the direction of Coach John Donegan. Chamblee Middle faculty and Quiz Team members (past and present) served as readers, score keepers, question writers, judges and presenters.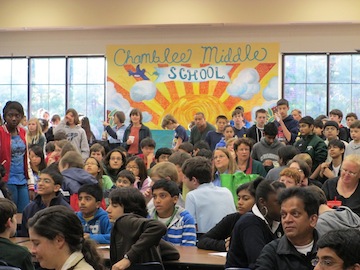 Peace Baptist Church Volunteers at Clarkston High
On November 10, more than 500 student volunteers from Peace Baptist Church provided community service for the Clarkston Community including the Clarkston High School campus. The volunteers, which were a group of highly motivated students, serviced Clarkston High School by assembling bags of toiletries (toothbrush, toothpaste, deodorant and soap) that were distributed to students and also the parents of students who were in attendance at Saturday School, Administrative Detention or the SAT/ACT Preparation session. They also donated more toiletries to be distributed to attendees at parent conference nights and other parent functions.
Henderson Middle Hosts Career Day
On November 9, Henderson Middle held its annual Career Day. There were a total of 82 speakers including judges, chefs, artists, musicians, military from Dobbine Air Force Base and Centers for Disease Control employees. A favorite with the students was the FBI Bomb Squad Truck and Piedmont Technical School "Technology on the Move" van.
Oak View Elementary School Celebrates Pink Day
Oak View Elementary hosted its first annual "Pink Day" in which 10 breast cancer survivors were honored and shared their stories. Alice Green, noted saxophonist, provided a pink serenade, while poet and spoken word artist Oak performed a tribute to the survivors. Pink treats were donated by Publix, the Sisters Network and the American Cancer Society. DeKalb County School Board Member Sarah Copelin-Wood also gave a beautiful word to our survivors. Community partners including the Seven Arts Center, Ardyss Life International, St. Jude Children's Research Hospital and "A Beautiful Me" were also in attendance.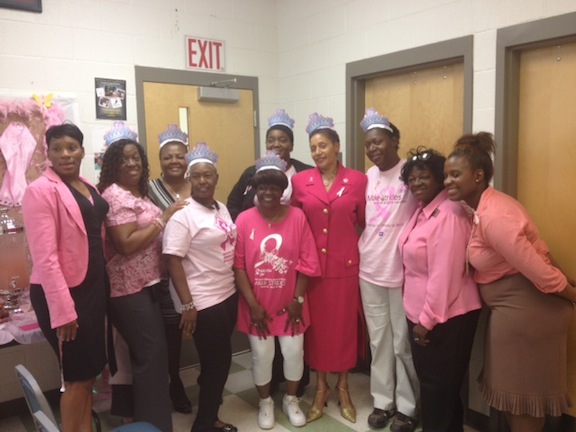 DeKalb School of the Arts Presents "Dark Night Fall Drama"
The DeKalb School of the Arts will present "Dark Night Fall Drama" at the Kyle Theater, 1192 Clarendon Ave., Avondale Estates. Students have written, directed and performed the two shows, both of which feature 12 plays. Show I will be performed on Nov. 17 at 8 p.m. Show II will be performed on Nov. 16 at 8 p.m. and Nov. 18 at 2 p.m. Tickets are $12 for adults, $6 for students and $4 for DeKalb School of the Arts students and can be purchased by calling 678-676-2552 or emailing dsa-box-office@fc.dekalb.k12.ga.us.
DCSD Joins DeKalb Council of PTAs to Host Education, Resources and College Fair for Special Needs Students
DCSD and the DeKalb Council of PTAs will host an education, resources and college fair for students with special needs on Saturday, Feb. 16 from 10 a.m. until 2 p.m. at the DeKalb County Administrative Complex. The fair will feature about employment, staffing services, career exploration, college and vocational programs, family support and much more. For more information, contact Ron Brown, chair of family engagement and special needs, at rbrown011914@gmail.com.
Have good news to share?
Email it to goodnews@fc.dekalb.k12.ga.us